Bathroom partitions provide privacy in public restrooms through small enclosures and can be useful for any business. While they include several parts, from headrails to hardware, panels, doors, pilasters, and pilasters shoes, they also come in a variety of material types.
But how do you know which bathroom stall is the best choice for you?
Our below guide tells you everything you need to know about bathroom partitions so that you can select the best material for your needs.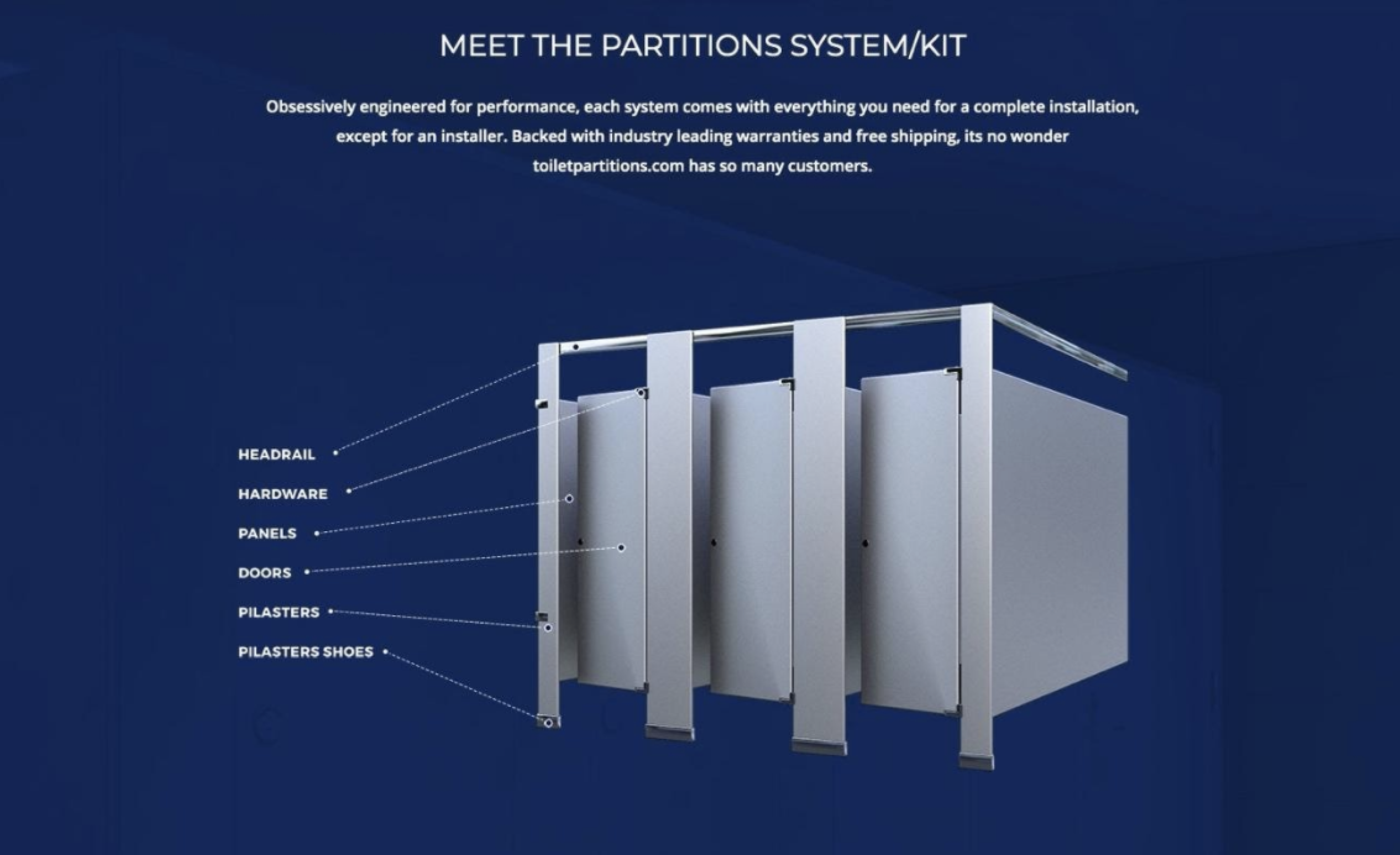 Types of Bathroom Partitions
There are five basic types of partition materials with various levels of durability, color choices, and prices.
Powder Coat Partitions
Known for their ultra-durability and anti-rust features, powder coat partitions involve electromagnetic baking of an enamel powder finish onto steel panels.
Also known as Baked Enamel, this material is budget-friendly and one of the most popular materials used for toilet partitions. It's the perfect choice for churches, schools, restaurants, and any commercial setting. Choose from 10 color variations that ship in approximately 48 hours.
Plastic Laminate Partitions
Plastic Laminate is another popular material for toilet partitions. Also known as High-Pressure Laminate (HPL), it's made from particleboard sandwich between layers of plastic laminate, which is strongly bonded using resin at the pressure of 1,000 pounds per square inch. Plastic Laminate should not be placed in high moisture areas and should not be used as a shower divider.
The standard version of this material comes with chrome hardware, aluminum head-rail, and stainless steel shoes.
Choose from a large variety of color options. When maintained properly, this material can last up to a decade or longer.
Solid Plastic Partitions
Solid Plastic Partitions is one of the longest-lasting, most durable materials on the market. Also known as HDPE or Polymer, it's made from non-porous high-density polyethylene (which is highly durable and resistant). Solid plastic does not absorb odors, remains waterproof, and is mold-resistant, making it a good option for facilities with showers in the restrooms. The solid surface structure has the same color throughout the material, making it a top choice for restrooms that experience high volumes of traffic.
Specifically, this partition material is ideal for schools, stadiums, and airports. Rust and corrosion will not build upon this material. If damaged by customers, it's easy to make minor repairs to the material.
The standard series includes one-inch thick solid plastic material with aluminum hardware and stainless steel shoes. Installation is no more difficult than any other material, however it is much heavier to move around.
Backed with an industry-leading 25-year warranty.
Stainless Steel Partitions
Stainless Steel Partitions are primarily made from recycled materials and contain properties that prevent rust and corrosion. A satin brushed No. 4 finish with polished chrome hardware comes standard with this series. Accented by aluminum head-rail and stainless steel shoes, this material is sure to impress your customers.
This material should not be installed near showers and must be kept away from moisture and water.
If installed in the right facility, this elegant partition material will last decades.
Phenolic Partitions
For the most indestructible, heavy-duty partition material on the market, look no further than Phenolic Partitions. Partitions made with this material, also known as Compact Laminate, consist of multiple layers of kraft paper infused with a resin under a tremendous amount of pressure. The result is strong panels that are lightweight.
Our selection comes with a 25-year warranty and endless color choices.
Durable & Affordable Bathroom Partition Stalls, Hardware, and Accessories
We specialize in American-made toilet partitions with industry-leading warranties and free shipping. Each toilet partitions system comes with everything you need for complete, easy installation. From panels to doors, pilasters, and hardware, you will also receive detailed installation instructions. Additionally, an expert installer is available to talk you through any questions you might have. With our extensive list of options and expert customer service team, it's no wonder more people use us as their toilet partition and washroom accessories supplier than any other on the market.