Every commercial bathroom must have at least one restroom for each gender that is compliant with the Americans with Disabilities Act (ADA). In some cases, older buildings can be exempt from this requirement, but restrooms that are being renovated or built must comply with the ADA accessibility standards. In fact, creating a code-compliant restroom can be the most important and most intimidating process of your entire toilet partitions project. 
Restrooms are typically inspected very closely and a mistake at the finish line can really jeopardize the timeline of your opening – Paying attention to a few key areas will ensure your compliance. Please note to always check with your local inspector before relying on this information.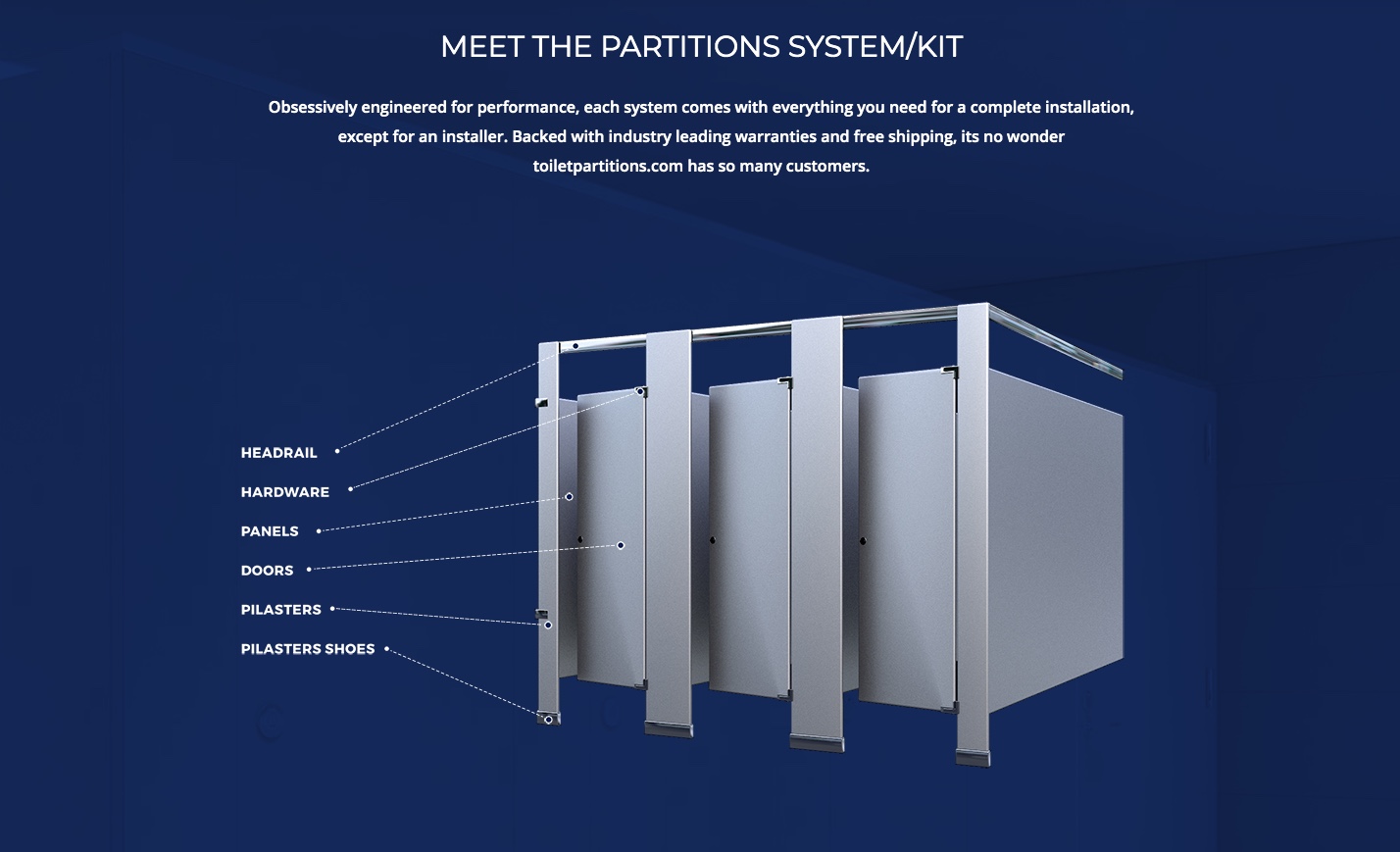 What is the Minimum Size for an ADA Bathroom?
The ADA requires accessibility to public restrooms that meet (but are not limited to) the following standards:
Toilet seat height of 17 to 19 inches, with a width of at least 60 inches. The toilet lever must also be placed up to 44 inches from the floor. The center of the toilet must be at least 16 to 18 inches from the side walls.

Space surrounding the toilet must be a minimum of 30 by 48 inches (in order to accommodate a wheelchair).

Hand dryers must be placed in the bathrooms that are motion-activated (or touch-free). The buttons must be 38 to 48 inches above the floor. 

The walls of the stalls must be at least 16 to 18 inches from the center of the toilet. 

Sinks must be placed no more than 34 inches above the floor. At least 27 inches of knee clearance should be beneath the sink. 

Grab bar installations that are 1 ¼ to 1 ½ inch in diameter. Additionally, each grab bar must be installed anywhere from 34 to 38 inches above the floor. 

Rotating space that contains clear floor space of at least 60 inches.
How much room do you need to turn a wheelchair?
The ADA requires at minimum 60 inches of clear floor space for the turning space within the restroom. 
How wide does a bathroom door need to be for a wheelchair?
According to the ADA accessibility standards, a bathroom door should be 32 inches wide for a wheelchair. 
Path of Travel ADA Public Restroom
Maneuvering once in the restroom is key for your customers. Obstacles can create lawsuits, in addition to unhappy customers. 
Clear Space for Handicap Restroom
Transferring on and off the toilet or the ability to use the sink without interference should all be designed into your restrooms. If you have taken the proper protocols and incorporated these codes/laws into your design you have nothing to worry about.
ADA Hardware for Bathroom Partitions
Imagine not being able to reach anything within the bathroom stall. Installing hardware for bathroom partitions helps provide accessibility for all customers while using your restroom facility. 
Non-ADA Toilet Stalls
A water closet, urinal, lavatory or bidet shall not be set closer than 15 inches (381 mm) from its center to any side wall, partition, vanity or other obstruction, or closer than 30 inches (762 mm) center to center between adjacent fixtures. There shall be not less than a 21-inch (533 mm) clearance in front of the water closet, urinal, lavatory or bidet to any wall, fixture or door.
The standard or average width of a non-handicap stall is typically 36″ wide with the smallest possible width being 30″. (read excerpt above codebook). If done correctly the centers of your toilets decide where your panels go for your non-handicap stalls. As you can read from excerpt above the minimum stall depth is 21″ plus your toilet depth. Typical toilets depths are between 29″-31″.
Why Our Toilet Partition Stalls, Hardware, and Accessories
We specialize in American-made toilet partitions with industry-leading warranties and free shipping. Each toilet partitions system comes with everything you need for complete, easy installation. From panels to doors, pilasters, and hardware, you will also receive detailed installation instructions. Additionally, an expert installer is available to talk you through any questions you might have. We have more options for more knowledge and better customer service – it's no wonder more people use us as their toilet partition and washroom accessories supplier than any other on the market.