Toilet partitions are small enclosures that provide privacy in public restrooms. Also known as a bathroom partition, bathroom stall, toilet cubicle, and restroom compartment, they are available in a variety of materials, mounting styles, and colors.
This article will tell you everything you need to know about toilet partitions, ensuring you purchase the best partitions for your needs.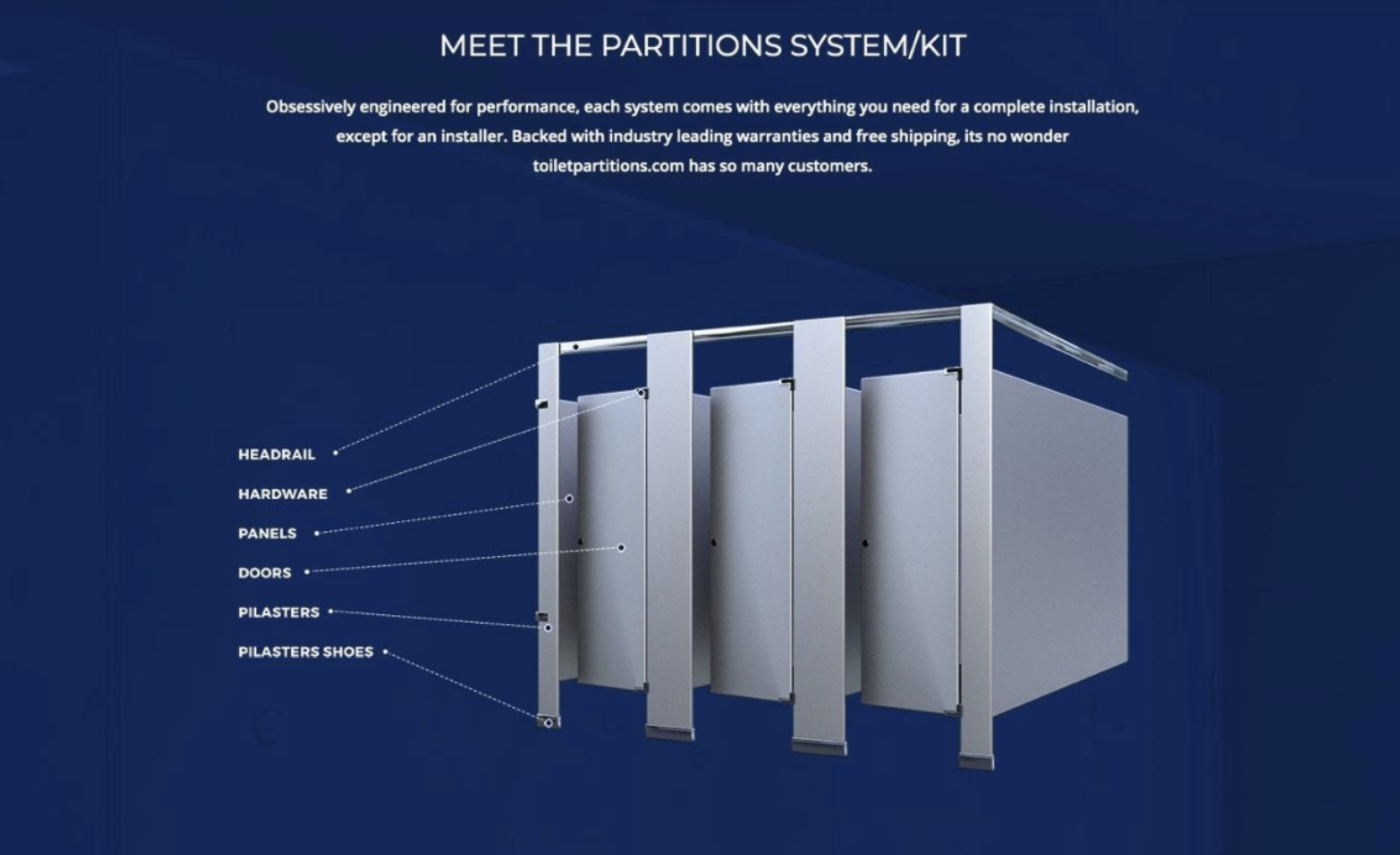 Components of a Toilet Partition
Toilet partitions are made up of individual components. A typical toilet partition stall will have at least one door and hinges. Depending on the configuration of your restroom stall, most partition systems will also have vertical supports (known as pilasters or styles, divider panels, and partition hardware). The main components include:
Headrail: The aluminum bar above your head as you walk through the door is the headrail. It increases the strength of the overall system.
Hardware: The main pieces of hardware consists of the screws, latches, locks, brackets, hooks for purses or jackets, door stops, and hinges.
Panels: These are the actual "dividers" that separate the compartments.
Doors: There are different size doors and panels depending on the design you choose. Some provide more privacy than others which we'll go into more below.
Pilasters: The vertical supports (columns) that attach to the door and panels allowing for structure and stability.
Pilasters Shoes: Hardware that anchors the posts to the floor.
What Are Bathroom Partitions Made Out Of?
Bathroom partitions can be purchased as either Powder Coat, Plastic Laminate, Solid Plastic, Stainless Steel, and Phenolic material. Each material has varying levels of durability.
Known for their durability and anti-rust features, powder coat partitions involve electromagnetic baking of an enamel powder finish onto steel panels.
Also known as Baked Enamel, this material is budget-friendly and one of the most popular materials used for toilet partitions. It's the perfect choice for churches, schools, restaurants, and any commercial setting. Choose from 10 color variations that ship in approximately 48 hours.
Plastic Laminate Partitions
Plastic Laminate is another popular material for toilet partitions. Also known as High-Pressure Laminate (HPL), it's made from particleboard sandwich between layers of plastic laminate, which is strongly bonded using resin at the pressure of 1,000 pounds per square inch.
The standard version of this material comes with chrome hardware, aluminum head-rail, and stainless steel shoes. Choose from a large variety of color options. When maintained properly, this material can last up to a decade or longer.
Please note: Plastic Laminate should not be placed in high moisture areas and should not be used as a shower divider.
Solid Plastic Partitions is one of the longest-lasting, most durable material on the market. Also known as HDPE or Polymer, it's made from non-porous high-density polyethylene (which is highly durable and resistant). Solid plastic does not absorb odors, remains waterproof, and is mold-resistant.
The solid surface structure has the same color throughout the material, making it a top choice for restrooms that experience high volumes of traffic. You have likely seen this material in schools, stadiums, airports, and other facilities that need material to stand the test of time. The standard series includes one-inch thick solid plastic material with aluminum hardware and stainless steel shoes.
Rust and corrosion will not build upon this material. If damaged by customers, it's easy to make minor repairs to the material. Installation is no more difficult than any other material, however it is much heavier to move around.
Backed with an industry-leading 25-year warranty.
Stainless Steel Partitions
Made primarily from recycled materials, Stainless Steel Partitions contain properties to prevent rust and corrosion (as long as the material is not installed near showers).
A satin brushed No. 4 finish with polished chrome hardware comes standard with this series. Accented by aluminum head-rail and stainless steel shoes, this material is sure to impress your customers. If installed in the right facility, this elegant partition material will last decades.
Note: Keep this material away from water, moisture, and restrooms that have customers who are hard on the partitions.
If you're looking for the most heavy-duty, indestructible material, Phenolic Partitions should be your go-to. Also known as Compact Laminate, this bathroom partition material contains many layers of kraft paper infused with a resin under a tremendous amount of pressure. The result is strong panels that are lightweight.
Our selection comes with a 25-year warranty and endless color choices.
When it comes to the design layout of your toilet partitions, there are four options.
Overhead-Braced Mounting: The most popular because of its sturdiness and easy installation, this style has the aluminum bar overhead as you walk through the doorway.
Floor-Anchored Mounting: The best style for a low ceiling, there is no aluminum rail above your head as you walk through the door. All pilasters, doors, and panels are the same height, creating clean lines and a modern appearance.
Floor-to-Ceiling Mounting: For ceilings up to 8 feet high, this is the strongest mounting option.
Ceiling-Hung Mounting: Known for its easy maintenance, this mounting option is great with the right budget. With this style, there are no supports attached to the floor, ensuring your restroom floors have a long life. Ceiling-Hung Mounting requires structural steel backing to ensure stability.
The number of restroom stalls you have will depend on the available space and how much foot traffic a restroom receives. A small bathroom can feature one, two, or three stalls (with one stall being designed for handicap traffic). When the restroom is for men, there will be one or two urinals present with privacy screens.
A larger bathroom will have many more stalls and screens (similar to what you see in an airport or convention center).
Standard – The most common stall style found in public and commercial restrooms.
ADA/Handicap – This stall adheres to US ADA regulations, to ensure handicapped traffic can use restrooms without any issues.
Alcove – A stall that is larger than others in a restroom. This stall usually goes from one wall to another, such as an ADA accessible stall.
In-Corner – The stall sits in the corner of a restroom.
Between Walls – The stall sits between two walls.
How Tall Are Toilet Partitions?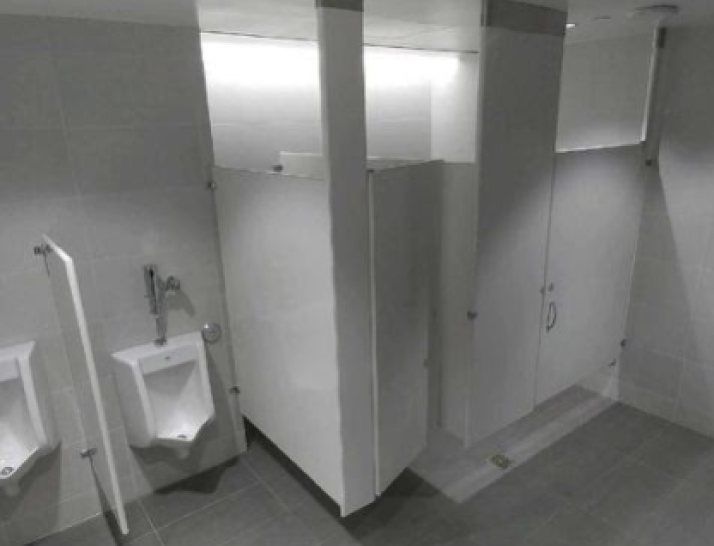 Most toilet partition doors and panels are 58'' in height, with the exception of solid plastic material being 55" in height. There are also two types of height partitions when it comes to the spacing between stalls and the floor – Standard and Full.
Standard Height Partition
The standard toilet partition is the most common in the United States. This type has a large gap on the bottom, usually 12″ in length. There are also sightlines at the edges of the door.
This type of partition, also known as European partition, is more private than the standard. There is minimal space at the lower end or side of the door. European-style partitions usually extend to the ceiling, connecting and securing to the hardware.
When measuring for toilet partitions, you need to take into account the length, width, and thickness of the partitions. Bathroom partition material can range in thickness from ¾ inches to 1-¼ inch thick, ensuring high-quality durable stalls. Keep in mind when measuring, you'll want there to be enough space for each bathroom door to open fully.
Additionally, you'll need to take into account the following design regulations: The Americans with Disabilities Act (ADA) and the Occupational Safety and Health Administration (OSHA).
The ADA requires accessibility to public restrooms that meet (but are not limited to) the following standards:
Grab bar installations that are 1 ¼ to 1 ½ inches in diameter. Additionally, each grab bar must be installed anywhere from 33 to 36 inches above the floor.
Rotating space that contains a clear floor space of at least 60 inches.
Toilet seat height of 17 to 19 inches, with a width of at least 60 inches. The toilet lever must also be placed up to 44 inches from the floor.
Space surrounding the toilet must be a minimum of 30 by 48 inches (in order to accommodate a wheelchair).
Hand dryers must be placed in the bathrooms that are motion-activated (or touch-free). The buttons must be 40" above the floor.
The OSHA guidelines involve (but are not limited to):
Specific number of toilets required dependent upon employees and population size.
Each toilet must be located in a separate compartment.
Hand-washing facilities are required.
Choosing Your Bathroom Partition Color
When selecting your toilet partition color, it's important to consider a few elements. For example, does the partition color fit with your overall restroom design? Does the color enhance the style of your space?
You'll also first need to decide which partition material you prefer, since the material you select will determine your toilet partition color options. For example, powder coat material partitions range in color options from light grey to ruby red, whereas solid plastic material partitions include mocha and hunter green.
How Do You Install A Toilet Partition?
When purchasing toilet partitions, you should select ones that are designed for easy installation. A typical carpenter or handyman will be able to complete the install. To install toilet partitions, you should always follow proper safety guidelines, which include wearing safety gloves, glasses, shoes, and a hard hat.
Step 1. Establish the floor bracket locations
Step 2. Fasten the floor brackets
Step 3. Erect the panel
Step 4. Erect wall pilaster
Step 5. Prepare pilaster for the door
Step 6. Fast "U" brackets to the pilaster
Step 7. Erect pilaster
Step 8. Prepare door for hanging
Step 9. Hang door
Step 10. Erect remaining compartments (repeating steps 3 through 10)
Step 11. Fasten headrail brackets to the wall
Step 12. Insert headrail
Durable, High-Quality Toilet Partitions at the Best Price
Our restroom partitions provide durable, secure connections, thick panels, sturdy corners, and are easy to maintain. Free shipping and covered warranties make our products the best choice on the market.
With our 25 years of installation experience, partnerships with eight of the world's leading manufacturers, and best online pricing, we provide you with invaluable knowledge while working with you on your partitions product order.