The 1542 series toilet partitions is our standard high pressure laminate partitions however engineered and manufactured by the most trusted brand in the industry….Bobrick Washroom Equipment.  Based out of North Hollywood California Bobrick has warehouses all over the world creating some of the shortest lead times of any manufacturer.   This over-head braced series is by the far the most popular, easiest to install and the sturdiest…making this one a no brainer.  The doors, divider panels and pilasters are all 1″ thick. Standard hardware for this material is polished chrome with aluminum head-rail and stainless steel shoes. When ordering a complete system you will receive all of the hardware needed for a complete installation including one way theft proof screws.  Below are some highlights of the "HPL" high pressure laminate toilet partition material.
Highlights of Bobrick 1542 Series Toilet Partitions
Highly Recycled Content

 Fire Resistance

Anti-Graffiti

Fast Delivery

Scratch and Dent Resistant
Easy to Install

Budget Sensitive Projects

Huge Color Selection

Best Seller

2 Year Warranty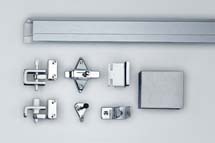 Chrome polished door hardware and brackets.  Extruded aluminum head-rail with anti-grip feature to detour vandalism.  Stainless steel shoes to finish off the trim at the floors.  Emergency access doors with vandal proof one way screws included on all orders.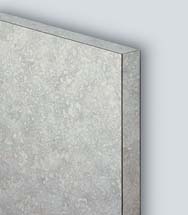 1″ Thick panels, door and pilasters laminated to industrial-grade particle board creating a scratch, dent and impact resistant toilet partition.  This material is "non-ghosting" when it comes to graffiti removal and has a 2 year warranty.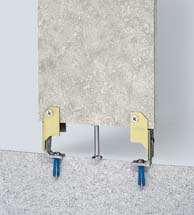 1″ Thick pilasters will attached to the floor, the panels and head-rail creating a strong secure system that will last for years to come. The stainless steel shoes will trim out the floor hiding any unevenness in the floor.
If you need additional information or to find a warehouse near you to will call your commercial bathroom stall partitions for your public toilets call me directly at 619-334-6653, my name is Rob.