What is the typical height of toilet partitions? This a question that is often asked and has a couple different answers.  Plastic laminate, Phenolic, Powder Coat and Stainless Steel material are all the same….58″ tall panels and doors while the pilasters are between 82″ and 84-5/16 depending on the slope of your floor.  Solid Plastic material is slightly different with the panels and doors coming in at 55″ and the pilasters are between 82″ and 84″ depending on the slope of your floor. These are your standard elevation sizes for typical material. This style of partitions typically has a 12″ gap between the floor and the panels and doors. Over the last few years a higher privacy material has become popular.  This style is know as "European" or "full height" toilet partitions.  This style typically come in  64″ tall and 72″ tall panels and doors with pilasters coming in at approximately 83″ (varies by slope of floor).
Doors 58″ Tall
Panels 58″ Tall
Pilasters 84″ Tall
12″ Gap at Floor
4″ Tall Shoes
Doors 64″ Tall
Panels 64″ Tall
Pilasters 84″ Tall
6″ or 9″ Gap at Floor
4″ Tall Shoes
Doors 72″ Tall
Panles 64″ Tall
Pilasters 84″ Tall
6″ or 9″ Gap at Floor
4″ Tall Shoes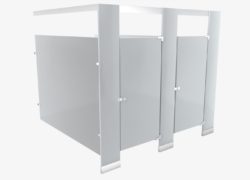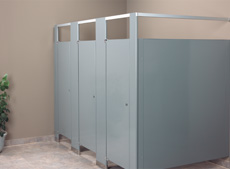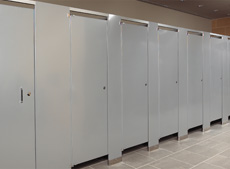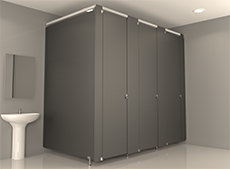 Elite Maximum Privacy Material
Doors 92″ Tall
Panels 92″ Tall
Pilasters Vary by Spec
6″ or 12″ Gap at Floor
4″ Shoes
How Tall Are Bathroom Partitions?
Before you start installing panels in the bathroom, you'll want to have a good understanding of the dimensions for stalls. You may already have questions about the measured spaces in bathroom stalls. These dimensions are important to ensure the privacy and security of your guests while they are taking care of their most personal needs. The bottoms of the panels need to allow for free airflow, but not infringe on the privacy provided by the stall. Here are some of the facts you need to know including how tall bathroom partitions should be.
Height of Bathroom Partition Walls
There are two  important height measurements when you are installing bathroom partition walls. The door panel has a specific recommended height. But the bottom of a panel needs to be a certain height above the floor. It is important to ensure occupants have the proper amount of privacy. In some instances, the panel spans the entire distance from the floor to the ceiling without leaving any gaps. A standard stall panel can be 55-inches tall and placed so that the bottom of the panel is 14-inches above the floor.
Since panels can be of varying heights, including custom heights, it's good to become familiar with the types of partitions you are considering. Make sure to measure the door height, the height of the panels, and the height off the finished floor. If you are buying replacement stalls, start by measuring your current facilities. If you are purchasing brand new partitions, then use a tape measure in the proposed space to get accurate measurements. Make sure to allow adequate space for privacy.
Most Common Partition Sizes and Dimensions
Before you make an order for partitions for a public or commercial bathroom, you will want to ensure you have precise measurements. Some types of partition walls can be cut if you were to order the wrong size, but some like solid plastic cannot be cut in the field. You also take a huge risk of causing irreversible damage trying to cut it yourself.
Each bathroom space will have unique characteristics making the numbers vary. However, a standard toilet stall is 36 inches wide and 60 inches deep. The minimum depth a stall can be is 48 inches, but it can up to 78 inches maximum if needed.  ADA requirements require newly constructed stalls to have doors that swing outward. Toilets must be placed between 16 and 18 inches from the closest partition or wall.  An ADA-compliant compartment has to be 60 inches wide and 59 inches deep. These compartments also need a door that is between 34 and 36 inches wide to allow wheelchair access.
Ordering Bathroom Stall Partitions
Every bathroom is unique and has its own characteristics. There are many reasons it's important to get the right measurements. Toilet partitions provide privacy and accessibility. Knowing the standard measurements and what it needs to construct ADA-compliant stalls helps you choose the right dividers for your new construction or remodeling project. Precise measurements will make the installation process go much smoother and increase mobility and safety for users.