Stainless Steel Toilet Partitions
May 4, 2020
One of the most elegant yet misunderstood materials of the toilet partition family is stainless steel. This material will rust if installed in showers even though this material has properties to prevent rust and corrosion. It's vital to keep this material from water, moisture, and restrooms with customers who are hard on the partitions. If installed in the right facility, this material will stand the test of time. A satin brushed No. 4 finish with polished chrome hardware comes standard with this series. Accented by aluminum head-rail and stainless steel shoes, this material is sure to impress your customers.
304 SS w/ #4 Satin Finish
Vandal Resistant
Anti-Grip Headrail
Smooth, Clean & Elegant
Easy to Install
91% Recycled Content
Fireproof
Long-Lasting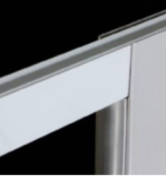 Every divider door comes with an aluminum extruded headrail that features a double ridge. This design prevents people from hanging on the door overhangs and destroying your restroom stalls.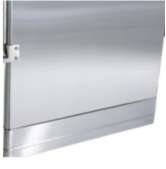 Stainless steel satin-brushed shoes act as a neat and attractive trim at the bottom of the stall's pilasters shoes. These shoes will hide any unevenness in the floor, ensuring the installation looks sleek and professional.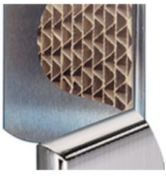 The entire core is engineered with a structural honeycomb that reinforces the stainless steel casing. Such an interior creates a strong yet lightweight foundation and enhances each panel's ability to withstand impact.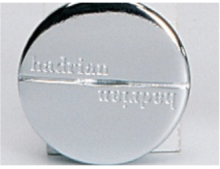 Chrome polished door hardware and brackets come standard on our stainless steel partitions. These fixtures are attractive, easy-to-clean, and constructed to endure frequent use.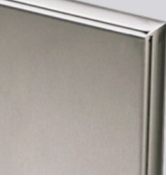 A full corner weld and Interlocking molding keep panels, doors, and pilasters intact, and easy to keep clean. You can see the well-thought-out design and high-quality craftsmanship at every corner.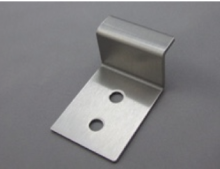 Every compartment comes with a stainless steel coat hook to attach to the door interior. That enhances the convenience of occupants and ensures other components of your stalls are not misused.
Stainless Steel Bathroom Partitions Are Easy To Maintain
#304 stainless steel is easy to keep looking good with regular maintenance. Grease, dirt, or makeup can be quickly removed. The best way to clean the surface is with a gentle detergent in warm water and use a sponge or soft rag. Once you've washed the bathroom partition, make sure it's rinsed well to get rid of any soap. Then dry with a soft cloth. If you notice any scratches, you can eliminate them with a light buffing and blending.
When Hygiene is Top Priority – Go with Stainless Steel
One of the most critical areas to keep clean is the edges of the panels since these are exposed to constant touching and grasping. All edges on stainless steel partitions have a permanent bond that creates a hygienic seal. That prevents any components or corners from detaching or becoming loose and debris caking up. This seal helps create a safe restroom environment perfect for hospitals and labs. Plus, the stainless steel material holds up to constant cleaning chemicals and strong sanitizing solutions.
Perfect for High-Quality Office Buildings
If you own or manage Class A office buildings, you'll want to install stainless steel toilet partitions. The quality of these partitions wow both tenets as well as customers because they create a luxurious atmosphere. Plus, with stainless steel, a higher level of sanitation and cleanliness is possible. So along with providing excellent maintenance and quality amenities, make sure the toilet stalls are the best.
Stainless Steel & High-Moisture or Water Don't Mix
The most important thing to remember when choosing a bathroom partition is to consider your environment. Never install stainless steel partitions in or around showers because even though they have properties that prevent corrosion and rust, they won't withstand high-moisture. If the location has high-moisture or around lots of water, avoid stainless steel.
Do not select a stainless steel partition if you have a:
Stainless Steel Partitions Are Easy to Match
If you need to add more stalls or urinal screens now or in the future, this material is easy to match. The standard satin-brushed finish makes adding more partitions easy. If you need to replace a section to make a larger stall for ADA compliance, the satin-brushed finish is naturally bright and consistent. We also have matching replacement hardware available.
Inflammable Stainless Steel Partitions
When you want the highest safety and protection against fire and smoke damage, stainless steel provides that. As compared to other materials, it has more temperature resistant properties that help keep your building safe. For example, if a fire starts in the public restroom with working sprinklers, you have a better chance of there being little to no fire damage. These partitions are entirely fireproof. That means if they are exposed to flame or heat, they won't give off toxic smoke. Superior fire resistance is a crucial element of most building codes, and stainless steel is the highest performer.
Stainless Steel Stalls Are Sustainable & Maintainable
The fact that stainless steel partitions are long-lasting makes them more sustainable than other types of materials. That's providing that they are well-maintained. When a facility with stainless steel stalls has regular cleaning and maintenance, the lifecycle of the partitions is extended. Compare that to lesser quality material that's neglected and left to deteriorate and then thrown away. By taking care of the bathroom stalls, you are helping the environment.
Enhance Any Design With Stainless Steel Partitions
When you need a material that complements any bathroom design, stainless steel is the right choice. That's because the natural shine goes with any color scheme. So if you have a facility like a hotel, restroom, or high-end office building that likes to change the decor every few years, this material is a good choice. The modern design will look beautiful into the future.
Go-Green & Remain Beautiful
The recycled content of our stainless steel toilet partitions is 91% (15% pre-consumer and 76% post-consumer). So if you have an environmentally sensitive project, including LEED, choose stainless steel. By selecting this modern material, you can be ecologically responsible and maintain an enhanced appearance.
Affordable & Cost-Effective
If you compare stainless steel partitions to phenolic, they are more economical. When you want to achieve an upscale look that will wow your customers, this material is your best choice. Plus, it lasts for years. And when it comes time to change the decor of your restroom, including placing sinks, flooring, and finishes, you can be confident that your stainless steel partitions will look spectacular.