Commercial toilet partitions provide privacy within restrooms while withstanding wet and humid environments, heavy traffic, and in some cases, vandalism. With a nearly limitless number of toilet partition designs and configurations, ToiletPartitions.com offers plenty of choices that will allow for flexibility on your projects. Before making a decision on your bathroom stall partitions, including style or material, it's important to consider three key factors.
Budget
Durability
Lead times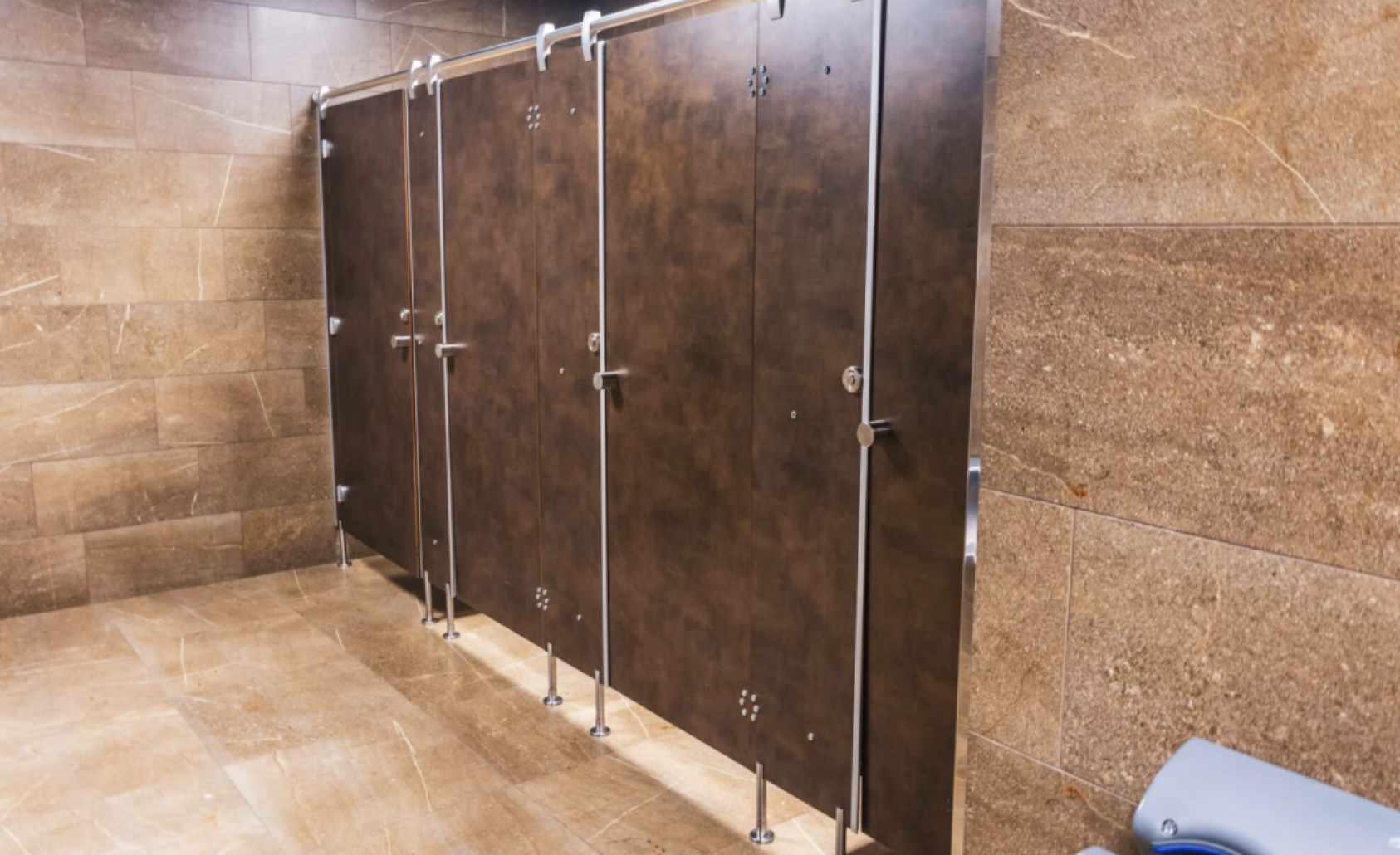 The Most Cost-Effective Option
More often than not, customers are looking for the most affordable toilet partitions available. As long as it's inexpensive and meets their lead time, that is all that matters to them. If that's what you're looking for, then we would recommend going with the powder-coated steel material in a standard color.
Powder coat toilet partitions can be on-site in 3 to 6 business days as long as you choose a standard color, otherwise, it will take a bit longer. Plus, this is the easiest material to install.
Let's take a look at other options for bathroom partition materials so you can understand their differences, durability and what would be the best choice for your project.
Toilet Partition Material Types
There are five major types of material used for toilet partitions.
Powder Coat
HPL High-Pressure Laminate
HDPE/Solid Plastic
Stainless-Steel
Compact Laminate/Phenolic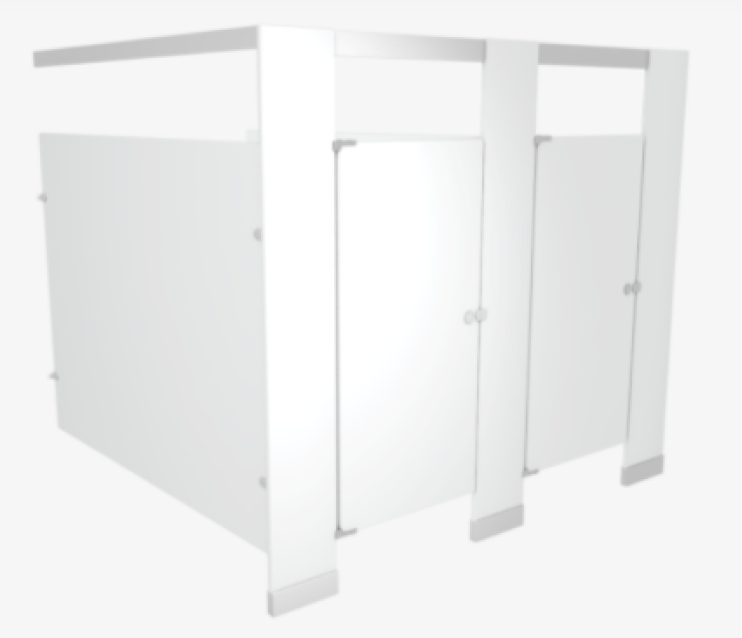 Price: $ Entry Level
Delivered in 3 – 18 business days depending on the
color
Durable, repairable, vandal-resistant
Powder coat toilet partitions are the most budget-friendly out of all the options available. The base material is steel, with a baked enamel finish placed on top of it using an electromagnetic process called "powder coating" to give it a visually-appealing and rust-resistant finish. Both the doors and divider panels are an inch thick. Within the center of these partitions is a panel of honeycomb cardboard, which is sandwiched between two thick sheets of metal.
Besides being economical, there are several other advantages to using powder coat toilet partitions, including:
Fire-resistant
Graffiti resistant
Durable
Easily repairable
Easy to install
Lightweight
The main disadvantage of powder coat partitions is that they have fewer colors and styles.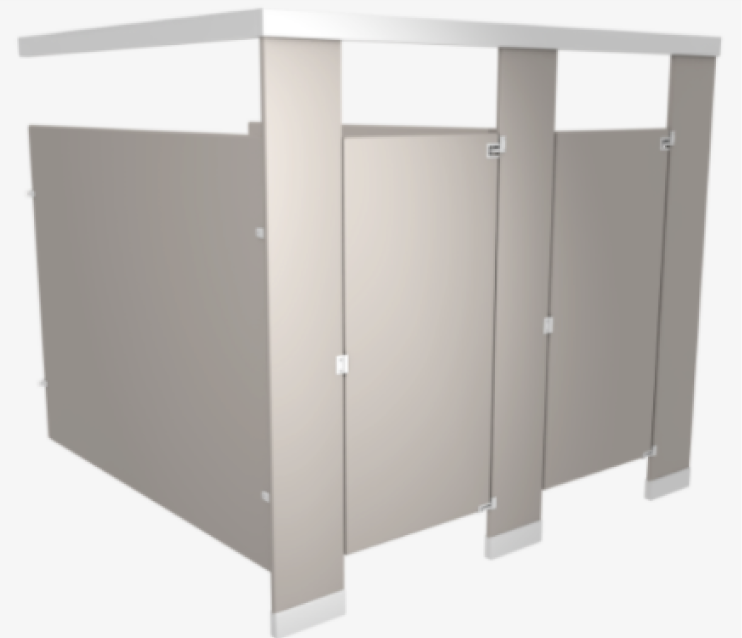 Price: $$ Budget Level
Delivered in 3 – 6 business days
Durability – NOT for high moisture areas
Known as HPL high-pressure laminate material, this toilet partition material is made by gluing laminate to particleboard. As with the powder coat partition style, these partitions are an inch thick. The difference lies in the inner core. The industrial-strength particleboard is resistant to scratches, dents, and impacts of all kinds. These partitions are just slightly more expensive than powder coat partitions, making this another affordable option.
The following are some other advantages to HPL high-pressure laminate material.
Customizable
Fire-resistant
Graffiti-resistant
Easy to install
Several color and style options
Scratch-resistant
Dent-resistant
The primary disadvantage of these partitions is that they can become damaged from excessive humidity or water. This means they are unsuitable for shower stalls.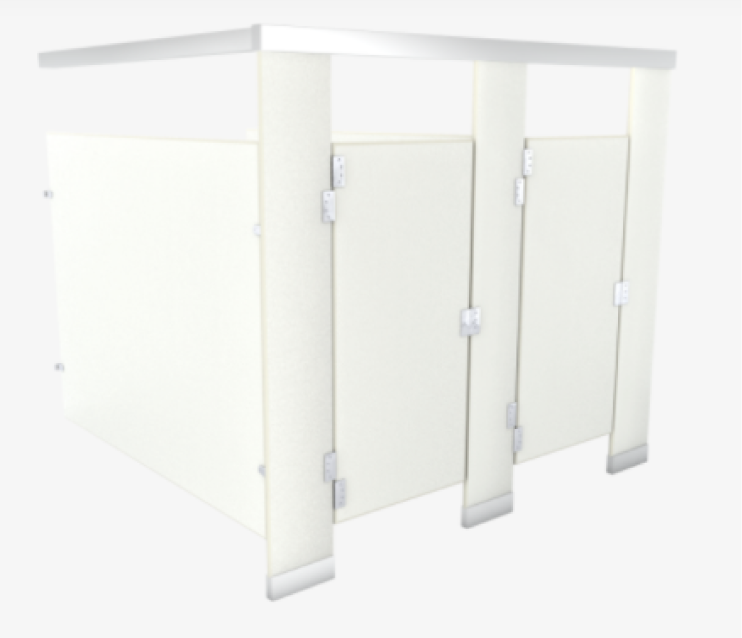 Price: $$$ Mid-Level
Delivered in 5 – 10 business days
Durability – one of the longest-lasting
Solid plastic toilet partitions are made using high-density polyethylene, also known as HDPE. There are several advantages of HDPE material over others. With the solid plastic being one inch in thickness, these panels provide exceptional durability, although they will cost extra. No matter what they are exposed to, solid plastic partitions will hold up well.
Here are the advantages of using toilet partitions made out of solid plastic HDPE material.
Exceptional durability
Solid core devoid of air pockets
Low-maintenance
Graffiti-resistant
Partially recycled content
Rust-proof
The one disadvantage of solid plastic partitions is the cost. Given they are made using high-quality plastic, they do cost more than the three options above.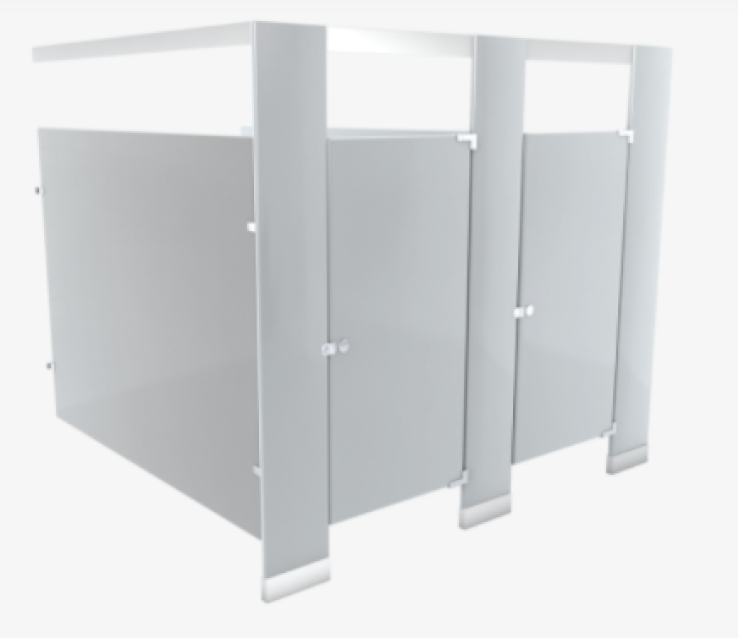 Price: $$$$ Higher-End
Delivered in 3 – 6 business days
Durability – one of the longest-lasting, but not for high-moisture
For a more elegant look, stainless-steel partitions are a great choice. Commercial and public restrooms that desire a higher-end look will enjoy the beauty of stainless-steel material. As a toilet partition material, it provides a luxurious look that fits in practically any environment. There are many other advantages of having stainless steel toilet partitions including:
Waterproof
Many patterns and textures
Vandal-resistant
Easy to install
Mostly recycled content
Fireproof
There are no discernable disadvantages of stainless material when it is used in toilet partitions. However, this is one of the more expensive options available.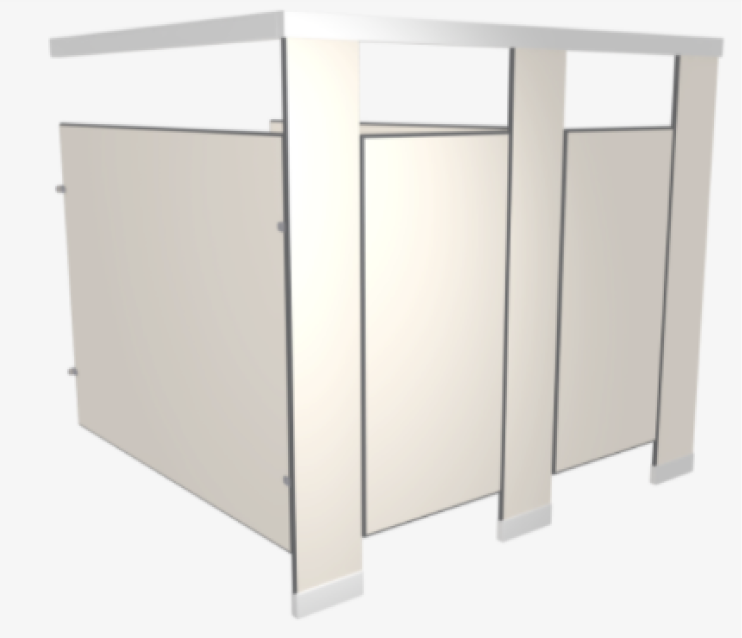 Price: $$$$ Higher End
Delivered in 5 – 10 business days
Durability – virtually indestructible
Compact laminate or phenolic toilet primary materials are condensed paper and resin. Many layers of paper are first compressed and then followed by soaking them with a synthetic polymer.
The phenolic material is highly resilient and can withstand virtually anything occurring in its environment. These highly durable toilet partitions come with many advantages. These are:
Long lifespan
Easy to install
Easy to clean
Corrosion-resistant
Bacteria-resistant
Wide range of color options
While phenolic partitions are a popular choice given all these advantages they hold, they do come with one downside. They are one of the priciest types of partitions you can buy. However, in some restrooms they are the best choice.
Everything You Need In Partitions
There are several excellent options when it comes to toilet partitions. Whether you have a budget and want resilient partitions or wish to show off a more luxurious look without being concerned about the price, there is something for you. When you need reliable toilet partitions that provide privacy while standing up to a restroom environment, choose one of these five partitions. We provide quality toilet partitions with satisfaction guaranteed. We offer FREE shipping for all orders to make your life easier. Our partitions come as a complete package, including headrails, panels, doors, pilasters, pilasters shoes, and all the necessary hardware.
The entire team at ToiletPartitions.com is here to help you and make sure that your order is correct and delivered on time. Whether you have one bathroom or 500, we'll make sure you receive the highest in customer care and satisfaction. Call us today at 855-809-2049.