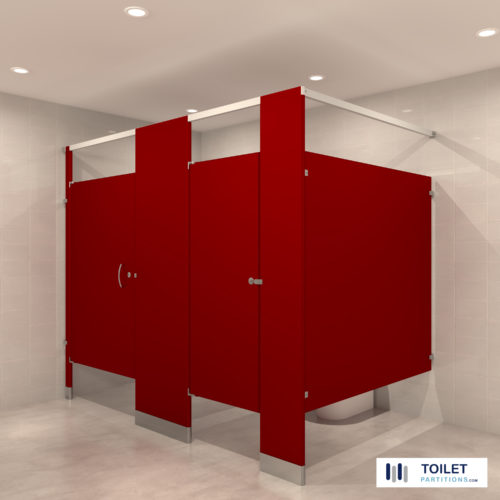 The Ultimate Guide for Toilet Partitions is quick and easy to understand.  Its a no nonsense approach to toilet partitions and what to expect.
What is a Toilet Partition?
A toilet partitions is a small enclosure around a toilet that is designed to give the user privacy while using the restroom.  A few other popular names are bathroom stall, toilet cubicle and restroom compartment.  At the end of the day all reference the same product and have the same design intent.  While there are many options to choose from and it can be quite overwhelming without a little help and guidance.  In this section we will break down and detail the five major areas that make up toilet partition systems.
Color and Hardware
Component Parts
How to choose Toilet Partitions
Understanding your facility as well as toilet partitions will make choosing your systems much easier.  Toilet Partitions are not cheap and mistakes can be costly.  Avoiding these mistakes is quite easy and in this section we will go over the different factors you should be considering before making an investment into your toilet partition system.
Type of Facility
Type of Customer
Project Budget
Surrounding Environment
Bathroom Stall Dimensions
Unless you are building a brand new restroom from the ground up your restroom dimensions are likely already in place.  You just need to figure out if your restroom needs to be ADA compliant and how to configure your system to allow this. In this section we will go over the the important details of your bathroom stall dimensions.
Size of ADA Stall
Size of Non ADA Stall
Size of Doors
Clear Path to ADA Stall
Problems with American Toilet Stalls
Modesty has never been a word that comes to mind when describing an "American".   Over the last few decades the "American" toilet stall has come under criticism with foreign travelers…and in many cases they are correct.  In this section we will go over some of the most complained about aspects of toilet partitions and some solutions.
Gaps Around Doors
Gaps at Floor
Lack of Overall Privacy
Lack of Designs
How to Estimate Toilet Partitions
Estimating or "bidding" toilet partitions is fairly easy.  You can alway skip this step and let us take care of the foot work or make it easy on both of us and use our automated pricing tool.  Our pricing tool will give you instant pricing, drawings, colors and product information on five materials.  If you want to learn a little more about estimating toilet partitions we will go over the areas below in this section.
Identifying a Manufacturer
Identifying a Style
Identifying a Color
Budget Numbers
Hard Numbers
Bathroom Stall Locks and Hardware
Bathroom stall locks and hardware have a rough life inside of the restrooms.  Each time I have the "pleasure" of entering a public restroom I'm very observant of the system, who the manufacturer is and the overall health of the system.  Most issues with the hardware and locks comes from either lack of maintenance over the years or an initial installation gone wrong. In this section we will go over a few areas that will help you get more life out of your locks and hardware.
Standard Hardware
Stainless Steel Hardware
Heavy Duty Hardware
"No Sight" Hardware
Receiving Your Toilet Partition Order
Being prepared to receive your toilet partition order is very important and also very easy.  You should of received a ship date as well as tracking information shortly after your order ships out.  It is the responsibility of the customer to coordinate and prepare to remove the pallet from the back of the freight liner.  If you have previously arranged for a lift gate that will be included with your delivery.  In this section we will go over the important areas receiving your order.
Do I Need a Lift-Gate?
Do I Have Ship Date?
Did I Receive Tracking?
Am I Prepared to Receive my Order?
 Installing Toilet Partitions
Don't be frightened by this section.  Toilet Partition systems are designed for ease of installation. A typical carpenter or a handyman will have no problem installing a toilet partitions system. In this section we will go over the areas of concern.
Identifying Parts
Laying-out Parts
Erecting Parts
Adjusting Doors
Maintenance and Cleaning of Toilet Partitions
Now that your system is up and running its just a matter of maintaining to keep it working and looking beautiful for years to come.  Don't just set them and forget them.  Your customers rely on having a nice restroom when using your facility.  In this section we will go over a few areas for you to keep an eye on.
Cleaning
Maintenance
Extending Life
View